Well I didn't do a very good job of keeping up with the blog. So it goes. Since my last post about Sunset Alley we made a few more trips down to St. George. There was some sending. I kept up with my training regiment until I sprained my ankle at the gym. While mending from that injury I switched jobs. During that transition I had a week off where I climbed in Idaho at the Shoshone Lava Tubes. There I re-tore an old meniscus injury (and fell going for the anchors on a red point attempt). Double fail.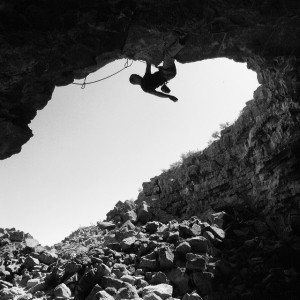 Knocked Out and Loaded (12c). Shortly before a minor setback occurred.
The diagnosis was about half of my medial meniscus needed to be removed. Fortunately I was able to get in for surgery quickly, and spent the month of May healing. One of the perks of being in Salt Lake is the amazing network of climbers, many of whom have big kid jobs. As it turns out, my physical therapist falls into that category. After some rehab I am now able to run and climb again with very few functional movement impairments.
Yesterday I sent my hardest route post-surgery, and tied my hardest red point for the year. The psych is high here in Ten Sleep!